In this episode of You And I Make A Thing, my friend Tara and I decided to go into nature and create ephemeral art, something that both of us had never done before. It was quite an open-ended idea and we both struggled a bit before we found the inspiration to guide us. Join us as we discuss how it all unfolded.
Links mentioned in this podcast
Tara's SoundCloud album: My Favorite Things, Sacred and Secular Seasonal Music
Braiding Sweetgrass by Robin Wall Kimmerer
Issa Rae Teaches Creating Outside the Lines on Masterclass
Griffin and Sabine: An Extraordinary Correspondence by Nick Bantock
The Artist's Way by Julia Cameron
Some of these links are affiliate links and I may earn a small commission from them.
Photos
The fallen cypress tree in Golden Gate Park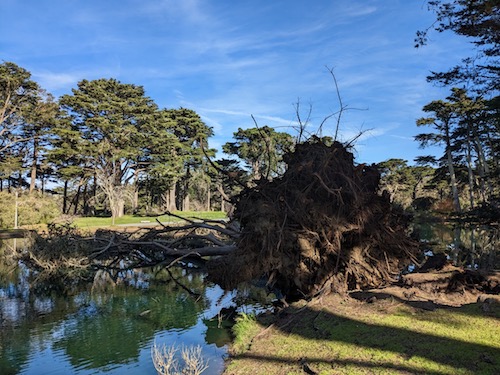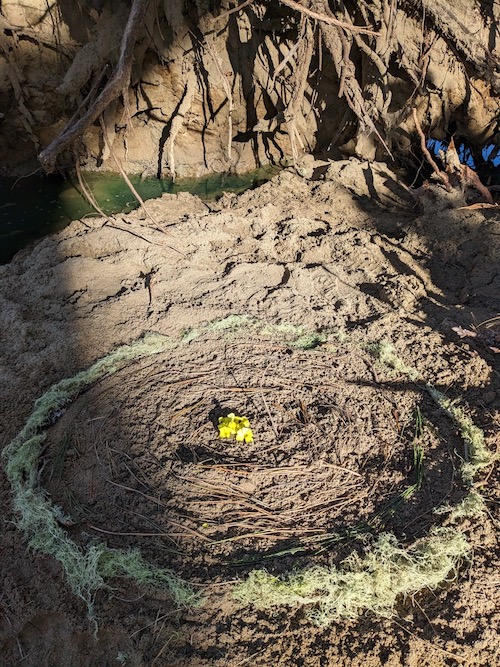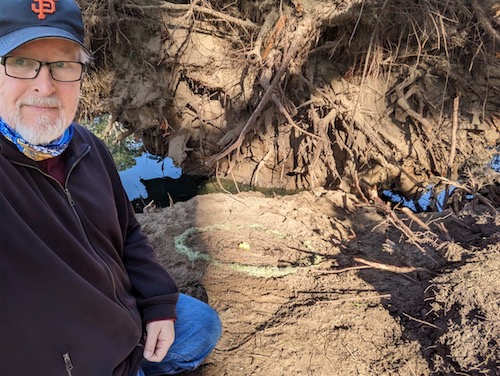 The fallen tree in Westchester NY near the reservoir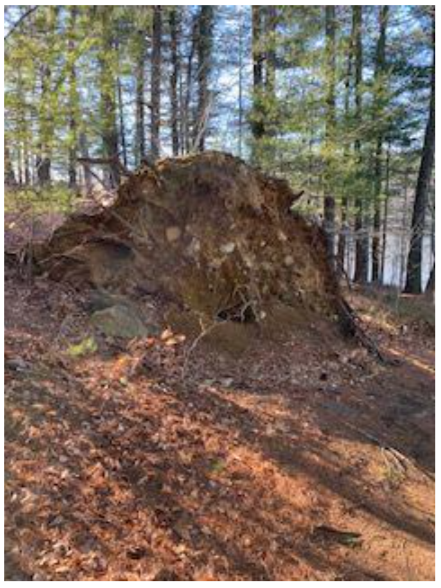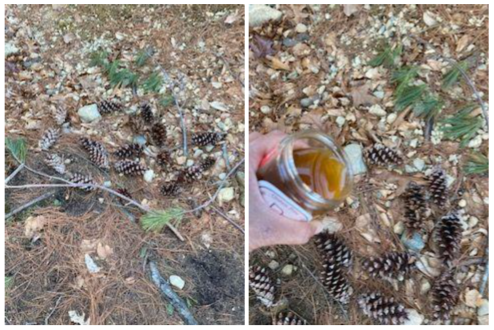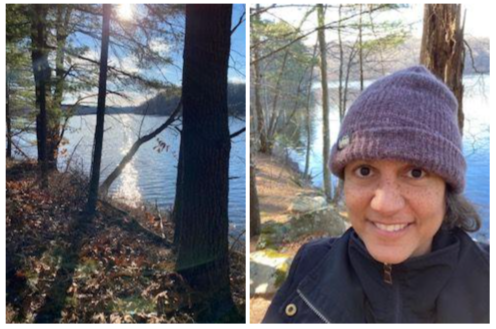 Transcript
Thomas: My guest today is Tara Bahna-James. Hello, Tara.
Tara: Hi, Thomas.
Thomas: How's it going?
Tara: Great. Great. Thanks so much. I'm happy to be here.
Thomas: Yeah, I'm happy that you're here. Tara is a playwright, singer, and performer, educator and essayist. She's co-authored six musicals and her shows and songs have been performed at theaters and festivals across the United States. And [00:01:00] about a year ago, Tara released an album on SoundCloud called My Favorite Things, Sacred and Secular Seasonal Music. And I've listened to it and it's wonderful. It's so beautiful. You have a, you have a beautiful voice, Tara.
Tara: Thank you.
Thomas: Before we get started with You And I Make a Thing, I want to ask you, Tell us about a creative thing that you are making at the moment or something that you're planning to make soon.
Tara:  So right now, I've been spending a lot of time outdoors recently, in all seasons just because, just before the pandemic began, I moved to sort of a more rural area than I was living before. And so there have been actually surprisingly, lots of opportunities to just sort of get out and hike and, so I've been thinking about trees a lot.
So at present, a previous collaborator of mine, Jonathan Portera, who I've, worked with several times on musical season, brilliant composer. He and I have been talking for a long time about beginning a new [00:02:00] work together and we don't know a lot about it, but we know that we're both fascinated with the life cycles of trees and the connections of trees to fungi.
Thomas: Mm-hmm.
Tara: And so I exactly where that's gonna take us.
But I think that's kind the direction that we're going in right now.
Thomas: That's great. That's wonderful. I mean, there's, there's a lot there to study and research and talk about and create from. Trees are like us and they're also very different from us in some ways. And, you know, in the sense that their lifespans can be much, much longer than ours.
And they have these, beautiful connections. You mentioned fungi and many trees have that symbiotic relationship with fungi. The fungi give them nourishment and the trees give the fungi nourishment in a different way in return. It's very [00:03:00] interesting.
Tara: What I'm also, what I'm in particularly fascinated by is that, just like from what I said, from spending time outdoors more often, just the way that wilderness affords you simultaneously a real stillness and also company at the same time. And I'm reading Braiding Sweetgrass right now for the first time and there's this beautiful quote that I just came across. I don't have the book in front of me, so I'm not gonna get it right, I'm sure.
But it was something about how the land recognizes you or knows you even when you don't necessarily recognize yourself. And immediately that resonated for me as something that I feel like I experience, even if I'm in a very new place. There's when I'm out hiking, if it's by myself or with dogs, I always, there's just this, this sort of sense of being recognized and not alone in the world. You know, even when in one's solitude.
And that's [00:04:00] just, that's something that feels, um, it's funny, I wanna say it feels very songful to me. It feels very musical, but that's not quite what I'm getting at because it's actually the stillness and the quiet of those moments that I so love.
But there's, there's something in there I guess, that speaks, that I want to give voice to that experience. So I think that's where that's coming from, that desire to write to that place.
Thomas: A little bit of like validation of the self when you're with the trees,
Tara: I dunno if it's the self, it's the family, I guess. Right? It's like the, yeah. The connection to all things. The mystic nature that poets love so much. So, yeah.
Thomas: Well, wonderful. I'll be looking forward to seeing how that evolves, and I'm sure you'll let me know when you've manifested it.
Tara: Yes.
Thomas: Well, [00:05:00] Tara, I'm so excited to be doing this episode with you. And specifically the idea of You And I Make A Thing. And I have to admit, I have some butterflies at the moment, which of course is the whole point of this exercise is to get together with you, to collaborate with you on something and we don't know yet what it's gonna be.
So, for those of you listening, Tara and I have not decided on something ahead of time. The point of what we're doing right now is to be in the moment and to improvise an idea. But I did, Tara, I did ask you to think of three things that you've thought about doing at some point and you haven't tried yet, and maybe it's something you might want to try.
And I've also have three things that I came up with. And I was thinking that we could sort of bounce back and forth. You could say a thing, I could say a thing. And then, you know, once we have both of our three things said, then we can sort of, I guess just sit with it and say, [00:06:00] oh, you wanna try that?
Tara: Sounds good.
Thomas: Do you want to go first or do you want me to go first?
Tara:  I don't mind going first. I don't know if my ideas are meant to, well, I just, I felt a lot of freedom in the invitation, I'll just say that.
Thomas: Yes.
Tara: In terms of whether what I pick is thematic or about form or technology. so I just sort of riffed on that. I think my three are very different from one another.
So the first. also inspired by the book I'm reading right now, was for us to make some kind of natural art existing in either time or space. And the ideas that we would create it as kind of a call and response. Like either outdoor art, and it could be temporary art. It could be the kind of thing that maybe we document with a photograph or something, but then it sort of gets washed away. Or perhaps a ritual that is, informed by our [00:07:00] distance.
So the ideas behind this are basically the two ideas are, one, that it exists outside in some way. And two, that our working from so many miles apart collaboratively enhance the experience and the project rather than be you know, any kind of debility in creating what we're creating. So that it sort of informs the whole process.
The fact that we're, we're doing this in two different times and places. Yeah.
Thomas: I love that idea. I mean, there's already like sparkles going around my mind here. That's a fantastic idea. And we are on opposite coasts. I'm on the West Coast and you're on the East Coast.
Tara: Right. This way.
Thomas: And are, are you, are you close to the shore. Are you close to, to the Atlantic? There where you are?
Tara: I'm not too close. I'm close enough. Certainly. It's about an hour's drive for me, I'd say. Yeah. Mm-hmm.
Thomas: All right. I think [00:08:00] that actually sort of, ties into two of mine, believe it or not.
Tara: Oh, great. Great.
Thomas: So I've had this idea, so thank you for that. And let's bookmark that and let's see what shows up with these other ideas. So I have this thing that I've been thinking about wanting to do, and I call it skewer quotes. And in my imagination, what I do is I take an old typewriter. I actually have access to an old style typewriter. And type out a thought. Cut it out, paste it onto a skewer, you know, like one of those, things that you get Maraschino cherries in a cocktail, or a small skewer. And then go out to the dunes here at the beach and just plant it in the dunes for somebody else to find.
Tara: Oh my. I love that. That's interesting. That does feel very close to what I thought, doesn't it?
Thomas: Yeah.
Tara: [00:09:00] So what do the skewers part come from? Is it just for a way so that you can sort of, so that they won't blow away basically, so that you can attach them to something?
Thomas: Yeah, so you can stick 'em in the ground.
Tara: Okay, got it.
Thomas: So in my craft shop, my garage, with all these materials that I have, I have a lot of crafty items. And whenever I go to some of the local little tchotchke shops, we have a lot of Asian stores that sell teacups and bowls and, and strainers and you name it, right, for the kitchen.
And it's all very inexpensive because it's just, hey, you know, this is for daily use. It's not fine China or anything like that. And in those shops, I'm always looking for things that I could repurpose for crafts. So in my craft box of tongue depressors and swizzle sticks and all that, [00:10:00] I have like bundles and bundles of skewers that, you know, normally would be in the kitchen, but they're here in in my craft studio and waiting to be used.
So that's where the, skewer comes from. And I just thought skewer quote also has a ring to it. Like there is a little bit of tension when you say skewer.
Tara: Mm-hmm.
Thomas: Because you're poking something.
Tara: That that, honestly, that's what strikes me too, and it sounds aggressive in that way, I guess. Or not aggressive, but you know what I mean, or something. I don't know. I guess I'm trying to find a way of interpreting that. But why? I'm not gonna look for ways to interpret anything.
I'm gonna let it unfold. But I found myself sort of looking for a way into that part of it.
Thomas: Well, there is the cooking metaphor, right? I mean, you're taking your piece of onion and your piece of mushroom and the piece of, you know, bell pepper and all that, and making it into something that looks a little bit decorative and then you put on the grill.
Tara: Right, right, [00:11:00] right, right. That's so funny. Yeah. Yeah.
Thomas: All right, well that was number two. We still have four more to go. Let's see where this goes.
Tara: So my next idea was, so I've done some visual art in the past, not very much. I sketch a little bit, but it's probably the art form that I do least frequently. Or the one that I've heard of that I do least frequently. So something visual, and I was thinking, I've always wanted to make functional art.
Once I made a cup in a glassblowing workshop that I had. And it was just, I was so delightfully proud of it forever ever and ever. It's just such a special experience. So this thought was just that we would take some functional thing that we both decided to make, and then like either decide on a functional thing that we would then each reinterpret with our own choice of material.
Or that we would create together based on sort of part problem solving and talking [00:12:00] through, maybe making our ideal, you know, form of the whatever. Like form, like newfangled form of a chair say, or whatever. And just yeah, like approach it in a sort of a problem-solving way so that the end result was a new creation of some kind.
Thomas: And so when you say functional, that could be. like any, just anything that a person would use,
Tara: Like, when I was little, I always wanted to, I told my mother, my nose was always cold in the winter. And I had this idea that somebody should make nose cozies, like instead, like just for your nose, you know? Now of course I'm aware of all these hats and things that exist to like cover the nose. But like you know, but just the idea that there was like a little, almost like just like a tea cozy, like a little knit fabric that would sort of sit on the end of your nose that you could wear with maybe straps and you know, maybe it would look like little animal noses or something like.
Thomas: I love that.
Tara: Yeah, it could be something that you've wanted to exist too. It doesn't have to be [00:13:00] typical.
Thomas: All right. I like that. Let's see. Now you got me thinking. All right. Before I start thinking too much, I'm gonna propose my next idea. I've been wanting to make something called a mini box assemblage. An an assemblage or a box assemblage, is an art form where the artist takes a box and then basically makes like a three-dimensional collage.
It's like collaging, but using found objects, right?
Tara: Mm.
Thomas: But I'm thinking of more of the mini version. And, you know, when you get jewelry in a small box. It's usually these white little cardboard boxes with a piece of cotton in them.
Tara: Okay.
Thomas: You familiar with those?
Tara: Yeah.
Thomas: I was thinking what would it be like to take a box like that and make a collage from that, like [00:14:00] find smaller three-dimensional things and create, an assemblage, a collage out of that. And that's something that I've been, considering.
Tara: This kinda reminds me of dioramas. Do you make those in school?
Thomas: I do, I do make dioramas, and it is sort of like a diorama, except that it's usually less representational, it's more abstract. It's more abstract in, in the sense of a collage, like when you do a paper cut collage.
Tara: Okay. Hmm.
Thomas: All right, so how about you? You have one more thing, right?
Tara: My last thing, yeah, so this idea is probably the least developed and it, oh, do you know, it's so funny. I had, one of the ideas that I took off my list was collage. So there's that resonance with your three-dimensional one actually. So there, there's resonance there too.
But anyway, the third idea was just to use a technology, or a format in writing that I don't typically [00:15:00] use. So I've always wanted to, I like the idea of working in film or video, but usually the technology's intimidating to me to the extent where I sort of put off working with it. But I know you're much more tech savvy than I am.
So I guess if there was some technology that you've been curious about that you haven't tried out yet that we could sort of play around in. Or like, I write a lot of scripts, but I don't typically write scripts for film and video. So maybe something like that. And something I, another idea that came to mind along those lines that feels kind of goofy to me, but fun is to actually write a pilot.
Like write a TV pilot or something like that. Like come up with a situation and then write the first episode for whatever show that would be.
Thomas: Oh, that's cool. I subscribe to Masterclass and one of the artists that I follow there is Issa Rae. And she's done, you know, a fabulous job with her series. And her class all is all about that. It's all about creating a pilot and how do you go [00:16:00] about it and how do you create the characters and stuff like that.
Tara: Hmm.
Thomas: Yeah. I'm gonna tell you one more here and then we can step back a little bit and make a decision. So the last one is, have you seen the book Griffin and Sabine?
Tara: Oh, I've heard of it, but I can't remember. Is it, is it letters to one another?
Thomas: It's letters. So the idea is that there's an artist that lives in England, his name is Griffin, and he gets this mysterious letter from Sabine. She's in New Zealand, and she reveals that she can see him. So they're writing letters back and forth. And of course this unnerves him as like, how in the world is this person, Sabine able to see me? Like, she can visualize him.
And the book itself is basically you open a page and there's an envelope, and then you open the envelope and open the letter and there's the [00:17:00] letter, right? And I thought, but that's such a terrific way to tell a story of, you know, these letters back and forth.
So anyway, one of these days I want to attempt something like that.
Tara: So is the idea that we would create kind of an epistolary novel, or is there the idea that we would write letters as ourselves back and forth to each other and then create some artwork out of that and, I don't know. And I guess I'm curious as whether we're writing, if that's the case, are we writing as characters or we're writing as ourselves as you say.
Thomas: I would think we're writing as characters. I think we would decide, okay, let's do a story around this thing, this topic, and then decide what the letters are going back and forth. So anyway, that's my third idea.
Tara: Hmm.
Thomas: There's so much here, isn't there?
Tara: There really is! Eager to pair this with the TV pilot idea since the other two [00:18:00] seem to go so well together. You know, although I guess maybe the three dimensional collage is not so much like the functional art but it feels like, each of our three ideas in our set were divergent from one another in similar ways. Does that make sense?
Thomas: It is. Yeah, I agree. Definite similarities there. I have to say that, I mean, they all resonate with me and I'm sure they're resonating with you as well, but I have to say that your first idea of going out into the wilderness and making something ephemeral really did resonate with me. What about you? how's this all hit for you?
Tara: I feel open to them all, but I think I agree that, that one, I think that first idea really resonated in a way that felt like it was, I could see it taking shape. Does that make sense? Like, I feel like it was probably the most developed idea that I had.
And also, I [00:19:00] think of your three, it was also your most developed idea. So, I guess I'm blending them. You're talking about the first idea and I guess I'm talking about one and two as a unit for some reason. So when you say going down to the dunes, are you talking about combining the skewer quotes with the first idea or, exclusively like diving into the first idea to try to see what comes up.
Thomas: Well, how do you feel about the skewer quotes?
Tara: I like the skewer quotes except that I don't know how I feel about the skewers, but I mean, I could also use tongue depressors or something like that.
Thomas: It doesn't have to be a skewer.
Tara: And I also, yeah, and I also don't know how to wrap my mind around I'm trying to sort of wrap my brain around how we could do it in a way that didn't create trash ultimately. You know what I mean?
Thomas: Yeah, well, we don't have to leave it there.
Tara: Right.
Thomas: In [00:20:00] this sense, it's like we could create something that is literally ephemeral and we just go down there, we photograph it, or interact with it or do something with it.
Tara: Or we could, we could, place elements that are already in the space, in a way that, that leaves behind some kind of message or some kind of communication.
Thomas: Like an echo or a shadow.
Tara: Yeah.
Thomas: like that.
Tara: Yeah. And I also like, so part of the first idea was that there's that call in response element to it.
So I don't know if that means yet that one of us creates something. I mean, there's also, you know, we could, because of modern technology, we could literally be doing this at the same time and communicating about it. Or we could go into the space and have an experience or create something and then share it with the other [00:21:00] person so that then the other person would respond to it.
Thomas: I like the idea of call and response.
Tara: Mm-hmm. Maybe that's our theme. Maybe that whole, that's our theme call and response. And that's the idea that we're creating around.
So we could like pick a space that we're each gonna go into and then respond to the notion of call and response. And then listen for what's in the space and then respond to it or listen for our art partner on the other side of the coast. And then respond to what we're picking up, you know?
Thomas: I like that. That's great.
Tara: Cool.
Thomas: We have our idea.
Tara: Good, awesome.
Thomas: Fabulous!
In just a moment, Tara and I will return what the results of artistic adventure to the outdoors. But before we do that, I'd like to play for you. One of Tara's songs on her album. [00:22:00] My Favorite Things, Sacred and Secular Music. It's called Riu Chiu and it was arranged by Mike Magatagan.
https://soundcloud.com/tara-bahna-james/riu-chiu
Thomas: That was Tara Bahna- James singing Riu Chiu. And I'll put a link to her album on SoundCloud in the show notes. Now, back to our conversation about You And I Make a Thing.
Thomas: Well, Tara, welcome back! It's been a while since we've last spoke.
Tara: Indeed, indeed. Thank you. It's great to be here.
Thomas: And thank you for playing along and doing this thing with me. The You And I Make a Thing. I am just so delighted with what we both came up with. And what I thought we would start with is to talk a little bit about what we were thinking before we got started with our adventure to the [00:25:00] outdoors.
Tara: Mm-hmm.
Thomas: And I'll start. When we did our first conversation, it was just before New Year's, and right after that, we had a quite a bit of weather come through here in California. We had a number of storms that just, you know, came through one after the other.
So I was waiting to find a break in the weather to go out and do something. But I have to admit that I was a little struggling a little bit to try to figure out what it is that I wanted to do. You know, we said that we wanted to create some sort of ephemeral art. And my initial thought was to go down to the beach, but with the weather we were having, it just didn't make sense to go there.
Tara: Mm-hmm.
Thomas: So I couldn't figure out what I was gonna do, you know, was I gonna go down to the beach and play in the sand, do some sort of dance, make some images in the sand or whatever? I was struggling for quite a while to come up with [00:26:00] something. And before I proceed with how I sort of found what I wanted to do, I'm just curious about what you were feeling going into this.
Tara: Yeah, I guess I had a kind of similar experience. I also envisioned myself on the beach, somewhere in Sanford maybe. And the reason it didn't work out that way, is more because of what came up for me when I saw what you had done initially, which is great. I'm glad it worked out that way.
But I also wasn't really sure of the direction I wanted to go in. I tend to gestate things for a while before I create an artistic piece. I'm waiting for influences from all the parts of my world to sort of gather. You know, it takes me a while to figure out what themes I've been turning over in the various parts of my life, what wants to be birthed, you know?
And so, so I think that's where I was with [00:27:00] it. And also, as I mentioned in what I wrote for you about the work after I had done it. I think what was particularly challenging for this piece was that it really wasn't restrictive at all in terms of what we were supposed to bring to each other.
I also felt like, okay, it could be experiential, it can be the form of something. I guess I had a feeling after our conversation that what we were talking about doing was leaving some mark of an experience in nature that we had had.
Like not necessarily leaving something behind, because I think we wanted it to sort of live in the landscape and not become trash.
But I did feel like it was, you know, it was like the meeting place between an experience and an artifact, but it wasn't fully an artifact.
And I think that definitely presented a challenge in terms of conceiving it from the beginning. Because I felt like going through [00:28:00] it was going to reveal what it was. If that makes sense.
Thomas: I want to pick up on something you mentioned about it just being so open-ended. Art is hard when it's open-ended right?
I mean, that's why if you look at Instagram and places like that, everybody's always doing like daily prompts. Someone comes up with a list of the prompts for February and today you're gonna be doing something about oranges or whatever it might be. And having it not be so open-ended actually stimulates creativity. Right?
Tara: Yes.
Thomas: So this was a challenge in that way. It was really open-ended.
There was a point where I said, oh, you know, I think I'm actually gonna go to Golden Gate Park instead of going to the beach. And so I started imagining like, what could I take with me that I could do something [00:29:00] with, but I wouldn't leave it there.
And I have this huge coil of jute rope and I was thinking of taking the rope and stringing it from tree to tree and maybe even having me in as part of it.
And then what happened was someone posted a picture of a tree that had fallen during the storms that we had. And this particular tree is actually fairly well known to me. The reason is, it was growing right on the edge of a lake called Metson Lake. And it was a hundred year old cypress tree.
And the way it was next to the lake, it was almost like leaning into the lake. The the tree was leaning a little bit and it looked like it had one foot, if you will, one, big root right into the lake itself. And it toppled during the storms. When I read that, the first thing I felt was a kind of sadness.
Because of the [00:30:00] way the tree was positioned almost over the water, it always had this amazing reflection in the water. So it was almost like a part of the lake, or a part of the scene.
And the lake is only a 15 minute walk away from where I live, and so I would go there often and just sit in one of the benches.
And so it was an integral part of that scene, if you will, even though I don't think that I had created a a personal relationship with the tree, if you understand what I mean.
And now to see this tree toppled, all of a sudden it's like it felt personal, right? Is because it's like, oh, that scene will never, I'll never be able to see that scene again.
I'll never be able to see that tall tree and the reflection as well.
So after I learned about it after a couple days, I actually took a walk over there and took a look. And what struck me about it is, you know, first of all, the tree had fallen directly [00:31:00] into the lake. And the base of the tree is six feet or more in width.
So it was laying on its side, but underneath the tree was all sand because this area that used to be all sand dunes, right? And so this tree had grown on these sand dunes and yet the roots hadn't gone straight down at all. The roots had just simply gone to the side, which is I guess what Cypress trees do.
They don't send a big tap root downward at all. So I was a little bit surprised to see that a big patch of sand, just where the tree was standing. And so after I'd seen that, I went home and thought about it more and thought about our project here. And that's when it occurred to me. I said, you know, that plot of sand, would be a good canvas to do something with.
And as we had talked about in our previous conversation, I wanted to use materials that I found there. And the thing that [00:32:00] occurred to me is like a galaxy. And reason I thought about that is because it's been on my mind.
I've been thinking about the fact that we're in this great big Milky Way galaxy on a planet circling the sun and the solar system is circling in the the galaxy.
So it just was on, on the top of my mind. And so that's what I did. I went out and I was hoping to find some flowers, which I did. There was a lot of little yellow oxalis flowers blooming. And I got a few of those, put them in the center, and then I took pine needles and did a sort of a spiral around them. And then I was just noticing a clumps of lichen everywhere. So I just had to sort of finish it with having lichen on the outside.
I know that galaxies don't have lichen, but you know, it spoke to me for whatever reason. So that's what I came up with. I felt for me it was sort of a way to honor the tree and come to some sort of internal peace about the fact that the tree is now no longer standing.
[00:33:00] And, and it brought up a lot of feelings for me, but we'll get to that in a little moment. So now I'm curious to know how you felt when you received my email with the pictures.
Tara: Yeah, it's so interesting to hear you talk about them too, because it's different. It changes. I'm glad we didn't talk about it more before I received them.
Cuz it was really lovely to just take in the images and the story of the tree falling and your relationship to it without the background of what brought you to those ideas.
So, I also just wanna say, I love what you said about it helped you make peace with the fact that that experience of the landscape in that way with the tree standing was gone.
That there was, there's like an element of specifically of grieving, but I'm more thinking that it just speaks to me how [00:34:00] often, you know, there's an event and, I mean, if I can assume that we have a relatively similar culture. Our North American culture in this day and age, as United States citizens, has less acknowledgement of those rights of passage and the human need to like do some kind of ritual to really fully process.
Thomas: Right.
Tara: You know, so I love that because I feel like although mine was more of a gratitude ritual rather than for mourning, although it was also around a dead tree, or dying tree.
It's funny, it feels even funny to use the word dying with trees because I'm just so aware of their part of the circle of life. It's just so evident when you see them beginning to decay and other life forms like growing on them and the mushrooms and the spiders sort of taking them over. And moss or whatever. Yeah, it's just such a, such an interesting thing to think about from the perspective of this human life.
And, but anyway, I felt like [00:35:00] that was also a really strong part of it for me, that I was trying to show up for feelings, that it may not have occurred to me to stop and process if we hadn't been doing this.
Cuz it was such a peripheral, you know, like that tree, like your tree as well, it sounds like, it's not like you communicated with it directly or saw it every single day. But it was still in your world and it was still another being that you had a relational experience with, you know?
Thomas: And that I had reason to have gratitude for.
Tara: Exactly. Yeah, exactly. Right, right.
So when I saw your photos, the image of the fallen tree definitely spoke to me first because I saw in it this fallen tree that I was familiar with here on the East coast, that I frequently passed when I was walking dogs. I've worked part-time as a dog sitter in addition to a bunch of other [00:36:00] things.
And so I have occasion to go hiking with dogs very, very often. And this is one of my favorite places to go hiking with them by the reservoir in Westchester County.
And so the tree, I knew that for me, that image of your tree was connected to this particular tree.
There's no other tree that I see so frequently where I'm like staring at its root system, just sort of like right in the path. It's a landmark. It's sort of how I mark how far I've gone along the path when I'm walking with these dogs.
And there's something kind of ominous about it. It's like, you know, having fallen, it symbolizes death in some kind of way, but it's also, it's just very underworldy, literally, literally.
I mean, it's teaming with life, right? It's like all of these sort of, all of these sort of creatures living in the, in the dirt, hanging from its roots.
You know, it's an area that, I do have [00:37:00] relationships with several trees that when I pass them, I move to, you know, to touch them or hug them or sit by them or what, you know.
This is a tree that I always kind of kept my distance from because it was sort of gnarly and muddy and like, you know, like the dogs love running and smelling and eating and chewing everything on the path, but I'm like taking my dainty little steps to sort of stay on the straight and narrow and not step in anything too gross, you know?
And so I didn't. I had sort of distance from the street, and yet it was, as you say, it's like, it was a part of my world and something to have gratitude for. It was something that I recognized. It was something that helped to create the space that was this sanctuary for me and it's like playground for me.
So that was the first thing, is that your image is, immediately gave me clarity about where my part of the project was gonna take place. I knew I was gonna have to go to the tree.
Thomas: Mm-hmm.
Tara: The reason I was also very interested to hear you talk about the galaxy is [00:38:00] because, I didn't realize it at the time, I think, but to me, the notion of the galaxy also has that sense of like, there's so much life within it.
Right? It's this, it's this sort of visual structure. It's like when we look at galaxies, we're so far removed from them that they become really abstract and geometric, when in actuality it's just teaming with life. I mean, at least ours is.
And so that also sort of spoke to the experience of the tree. That the underbelly or underfoot of the tree is kind of this, you know, I see it as this sort of one round, like this one geometric experience that I have this kind of distant relationship to, but an actuality, it's an entire ecosystem.
So, that was really meaningful to me. And then also I mentioned just the visual of looking at the galaxy that you created, it really brought up the image of a nest to me, there was something that felt very [00:39:00] nest like, and I think it's the needles, the pine needles.
It just felt soft. It felt like the kind of like, if I were a bird, it felt like it was the kind of materials that I might gather, be interested in, you know. And there was something that was so, it was so contained and round and it was a, you know, it felt like a kind of civilized expression of emotion. And, to me, that evoked nest also.
So, and I don't know that thought made it into my creation as much. But anyway, but I thought it was interesting and it definitely, I guess, colored how I, what I thought was going on with the project.
Thomas: One thing that occurs me to me too as we're talking about this is, you know, when we behold trees, we are in awe of them because they are so tall and they're so much larger than us.
Tara: Mm-hmm.
Thomas: And when a tree falls down, at least for me, that root structure, seeing the underside [00:40:00] and the roots just splayed out is awe-inspiring in a totally different way, you know, because it is, it's still large, right?
I mean, the foot of this tree was, it was more than six feet, because that's, now I'm thinking about, it's taller than me. So it's like a different type of awe. To see a tree in that state. Because it's like, wow, even the base is so large.
Tara: Absolutely. And when I looked at my tree again that day that I was working on the project, I also, for the first time, really stepped back and saw how much ground its trunk covered sprawled across, you know, just. I don't even, I can't even fathom. I don't spend that much time measuring things.
But I mean, it was just much, much taller than I ever envisioned. I took a panoramic shot of it before I left. And what was remarkable is like there were branches that I hadn't [00:41:00] realized were part of that tree until I really intentionally stepped back and took it all in and recognized how much of the landscape was made up of that tree.
Thomas: So Tara, tell me a little bit about the ritual that you performed at the tree.
Tara: Yeah. So I while we were working on this, I was reading Robin Wall Kimmerer's Braiding Sweetgrass. Which is just such a tremendous work of everything, of memoir, of meditation, of honoring the plant life and ancestors in her life. It's just a beautiful, beautiful book.
I'm still not finished with it, but I just love it. And she has a chapter in which she talks about how when she was a child, her father would like, they would camp. And in the morning her father always made sure to pour the first cup of coffee out to the earth as an [00:42:00] offering.
It's like an echo of this, I hope I'm saying it right, Potawatomi ritual. And so that chapter talks a lot about ways in which the ritual life of her ancestors survived into her little nuclear family that was much more modernized and integrated.
But that there were these things that remained. And one of them was this sense of the importance of living with gratitude and reciprocity with the land and, you know, relationship. And that that's one of the ways that it lived for her in this ritual that she sort of took for granted it or, didn't, you know, realize the depth of it when she first experienced it.
So anyway, so I guess what happened for me is that when I realized that the images that you took brought me to this tree in my mind and made me want to go to this tree.[00:43:00] I realized that what I had for, you know, if I were gonna go to make an offering to this tree or in that space, it would be one of gratitude, because that's land that I've used for so often.
I'm years now, and I just not, I just never quite had, you know, I mean, I think I probably even do say thank you sometimes. I'm just a really verbal person and I'm a singer and it's very rare I go walking in the woods without singing something or, you know, talking to myself or the dogs or whoever I'm with.
So I'm sure at some point, you know, said some kind of thanks, but it wasn't for its own sake. It wasn't like I was making the trip to do that. And so I thought I'm gonna make this trip to say thank you. I'm gonna go to that space and just experience it differently, consciously reflecting on what it's meant to me and saying thank you.
And so, I borrowed her ritual and I took my [00:44:00] morning beverage, some of my morning beverage, which I did not prepare on the spot because I hadn't camped there.
Lately I've been drinking this delicious, this, you know, fad of mushroom coffee, which doesn't actually have coffee in it. And I just love this, this morning beverage. It's got like a cacao and turmeric and all these mushrooms and it's quite delicious and spicy and...
Thomas: That sounds delicious.
Tara: It is totally delicious and so I thought, okay, I'm gonna take some of this with me. And I was looking for, for the right day for a while, because while we have not had the kind of storms that California experienced, we have had, severe drops in temperature. Like within 24 hours, it'll go from 60 degrees to 20 degrees or something like that.
So I've been sort of waiting for the right time when I would wanna linger in outdoors and, and I got that opportunity.
And I just, went to the reservoir and I went for a hike by myself And I stopped at the tree.
And then while I was [00:45:00] there, also in homage to your galaxy, I created my own galaxy of pine cones. There was an abundance of these beautiful pine cones. Many, many different sizes. And so I made this little swirl of a galaxy and I said a prayer of gratitude to the tree and to the space, to the water and to the trees and to the wind and everything that created this beautiful landscape that I found myself in.
And then I poured out the mushroom brew and I also said a Buddhist metta prayer, um, like loving kindness prayer. And that was it. And then I just sort of stayed for a while and took that in.
Thomas: I did too.
Tara: Yeah. And listen, there's so much to, I just love to listen to the wind.
It's one of my favorite ways to write my morning pages. For those who don't know, and probably your listeners do, I'm talking about the, the Julia Cameron's morning pages that are part of the Artist's Way.
So [00:46:00] I, whenever I write my morning pages, I try to do so outside so that I can listen to the wind while I'm writing and it completely transforms my experience.
It just brings you present so immediately, and I feel instinctively that there are messages on the wind and that there's some part of my unconscious mind that understands what those are, in a way that I could never articulate or quite understand consciously.
And so I just listened and then I walked the length of the trail that I usually walk and saw it with different awareness.
And also at a different time of day, I should say. That was really nice too.  Because I wasn't going on the schedule I usually go on. It was just sort of the middle of the day and it was a beautiful slant of light. That everything was like golden and glimmering.
Thomas: Yeah. The light was different.
Tara: It was really lovely. It's a good experience.
Thomas: Yeah. I did the same thing after I made my piece there. I went and sat down and just took it all in.
Tara: Hmm.
Thomas: And it was a [00:47:00] wonderful thing to do it. You know, we're talking about gratitude. So I do want to express my gratitude to you for coming up with this idea because it's something that, um, I would've not have done otherwise.
And it was way more profound than I expected it to.
Tara: Aw, I'm so glad. I felt like it's so funny that you say that. I don't even, I'm not, I haven't even registered that it was my idea. It feels like it was sort of organic.
Thomas: Yeah, I mean, we, yes, we sort of went back and forth with it. But I guess what I want to say is I'm just so full of gratitude for us having done this together. Because it's not something I would've experienced.
And what this really drives home for me is that especially when it comes to making art that you've never done before, I always find that I am going to experience something, I'm gonna discover [00:48:00] something about myself that I hadn't discovered before, and it becomes so much more about that than the actual piece itself, the actual art itself.
So that's something that is wondrous to me. I think it's just magical that you can say, oh, I'm gonna do this piece of art that I've never done before. And in the process of doing it, you've just find out about more about yourself than anything else.
Tara: Mm, absolutely. Yeah, I would definitely agree with that. Yeah. And it's such a relief in its way when you realize that that is part of the point.
Thomas: Mm-hmm.
Tara: Because it just frees you to be process oriented.
And I don't think art ever really works when it's not process oriented, but somehow I still manage to, I don't know.
There's always deeper into that awareness to go for me. Like there's always some part of me when [00:49:00] I'm creating something, I guess that needs to be reminded of that.
I guess that I realized that that is a way, like that's sometimes finding my way into a piece of work can be just about like committing to the process and not, you know, I don't have to have decided what forms something will take. I like the notion of a letting the theme decide the form makes a lot of sense. Like the content I think often decides the form.
But I felt like this sort of took it to another level and that it's also fine to just sort of dive in, with your process being your prompt, essentially.
Thomas: Yep.
Tara, thank you and thank you for this wonderful project. And for our listeners, I will post a couple of pictures in the show notes so you can see what Tara and I did come up with. [00:50:00]
Tara, in your writing to me. I really loved your closing thoughts and I'm wondering if you could read the last paragraph that starts with, "It feels like a privilege…"
Tara: Sure.
It feels like a privilege to me now. That there are still places on earth where we humans get to leave behind the world. We have built and spent some time with the feeling of being outnumbered by other species. It's how I feel when I spend a lot of time among dogs too. What a gift to be outnumbered in this way. An infant among giants.
What is there to do, but do our best to learn their language? What begins out of necessity becomes a portal to new perceptions and experiences. I wish for this fluency from time to time. I wish it for all of us in time.